Shaheen, NH Businesses Discuss Importance of Investing National Research into More Reliable & Efficient Heating Sources
**Shaheen Hosts Roundtable with NH Stakeholders About Benefits of Long-term Reauthorization of National Oilheat Research Alliance for Granite State Businesses & Consumers**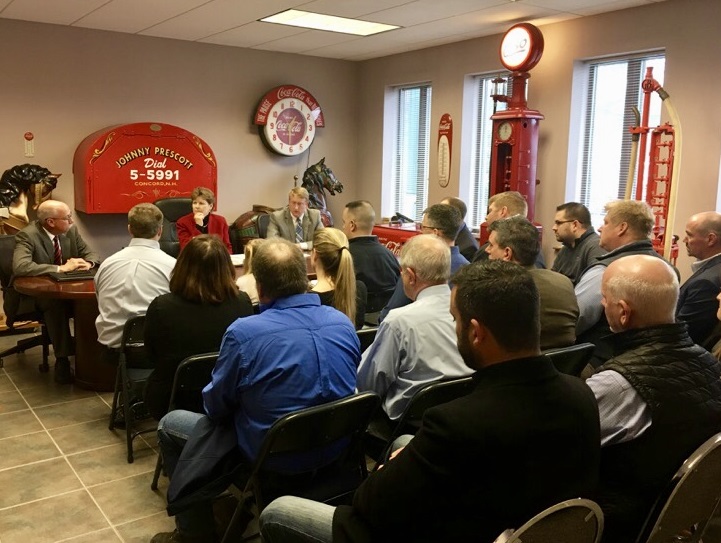 Shaheen Meets with NH Oilheat Stakeholders at Johnny Prescott & Son Oil in Concord
(Concord, NH) – U.S. Senator Jeanne Shaheen (D-NH) held a roundtable discussion this afternoon in Concord at Johnny Prescott & Son Oil Company with New Hampshire stakeholders to discuss the benefits of investing national research into more reliable, efficient heating sources, and how the long-term, ten-year reauthorization of the National Oilheat Research Alliance (NORA) will support Granite State businesses and consumers. In the Farm Bill that was recently signed into law, Shaheen fought to extend NORA's authorization to ensure there is industry support for research, development and deployment of new, efficient oilheat technologies. 
"Nearly half of all New Hampshire households rely on heating oil as their primary heating fuel. That's why securing a long-term reauthorization of NORA, which supports oilheat customers and producers, was such an important priority," said Shaheen. "I appreciated the opportunity to meet with Granite State businesses and consumers this afternoon and to hear directly about their experiences interfacing with NORA. Investing in oilheat technology helps improve safety and reduce costs for consumers, and I'll continue to prioritize efforts that explore more reliable, affordable energy sources."
Senator Shaheen worked with Senator Susan Collins (R-ME) to secure NORA's reauthorization in the Farm Bill. The ten-year reauthorization of NORA will remove uncertainty associated with repeated short-term reauthorizations and spur investments from NORA partners to create longer-term innovative programs that deliver greater benefits to consumers. Oilheat is used in 6.3 million homes and serves more than 16 million Americans across the country. Since NORA's establishment in 2001, oilheat consumers have saved nearly $600 per year by using more efficient technologies and practices developed by the program. Shaheen has been a steadfast advocate for NORA and included bipartisan legislation in the 2014 Farm Bill that renewed the program and reformed its mission to better benefit consumers, increase safety through technician training and strengthen the industry commitment to NORA without raising consumer costs.