Shaheen Questions Acting Defense Secretary and Joint Chiefs Chairman on Reports Pentagon Urges Trump Admin to Lower PFAS Standards & On Threats to NH Military Construction Projects Due to Emergency Declaration
**Shaheen Has Spearheaded Bipartisan Response in the Senate to Combat PFAS Contamination & Improve Transparency and Accountability for Responsible Parties**
**Shaheen Has Led Bipartisan Efforts in Congress Opposing the President's Power Grab to Take Funding from Military Projects to Pay for Border Wall He Said Mexico Would Pay For**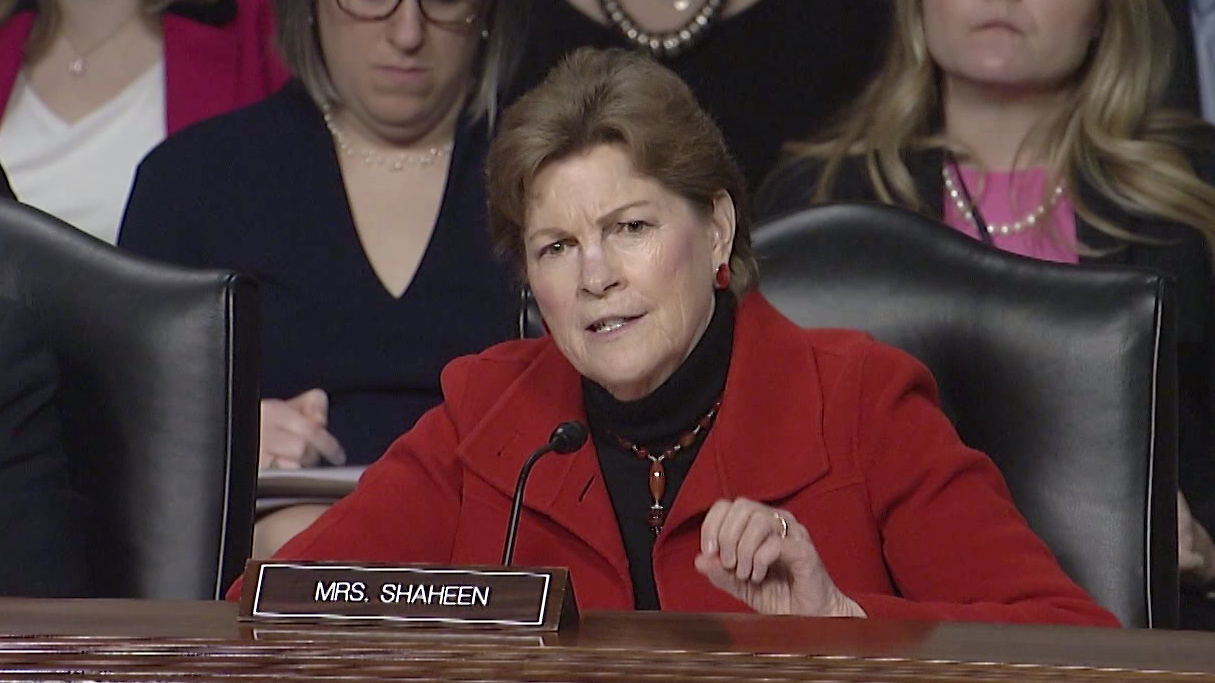 Shaheen Questions Witnesses During Senate Armed Services Committee Hearing
(Washington, DC) — U.S. Senator Jeanne Shaheen (D-NH) questioned Acting Secretary of Defense Patrick Shanahan about a recent report stating the Pentagon is lobbying the Trump administration to adopt a weaker standard for groundwater pollution caused by PFAS chemicals in firefighting foam, during a Senate Armed Services Committee hearing this morning. Shaheen also questioned Chairman of the Joint Chiefs of Staff General Joseph Dunford about the threats to New Hampshire military construction projects due to the President's emergency declaration, which would pull funding specifically appropriated for military projects by Congress to pay for a wall along the southern border which the President had promised Mexico – not United States taxpayers — would fund. Today's hearing was to review the Department of Defense's fiscal year 2020 budget.
Watch the Senator's questioning in full here. 
Shaheen has spearheaded efforts in Congress to uncover the potential health effects related to PFAS contamination. Shaheen successfully established the first-ever nationwide health study on the impacts of PFAS substances in drinking water. Because of Shaheen's efforts, Pease (the site of the former Pease Air Force Base) will serve as the model site for the nationwide PFAS health study. In the last Congress, Shaheen introduced bipartisan legislation with Senator Rob Portman (R-OH)—the Safe Drinking Water Assistance Act— that would improve federal efforts to identify and address the public health effects of emerging contaminants such as PFAS. In February, Senator Shaheen led a bipartisan letter with Senator Shelley Moore Capito (R-WV), calling on the EPA to establish federal drinking water standards for PFOA and PFOS, to which the EPA responded that it "intends" to establish the drinking water standards. 
Senator Shaheen has led efforts in Congress opposing the President's declaration, which could threaten projects at the Portsmouth Naval Shipyard. Earlier this month, Shaheen introduced a bipartisan joint resolution in the Senate to terminate the President's national emergency declaration. A similar resolution passed by the House of Representatives will be considered by the Senate today. Just last week, Shaheen petitioned the Secretary of the Navy on behalf of the Shipyard, personally speaking with Secretary Richard Spencer about the critical need to maintain funding for the Shipyard. A member of both the Senate Armed Services and Appropriations Committees, Shaheen fought to secure the funding for Portsmouth Naval Shipyard priorities, as well as New Hampshire National Guard projects, in spending legislation that was signed into law in September.