Shaheen, Ukraine Caucus Meet with Ukrainian Ambassador to U.S. & Members of the Ukrainian Parliament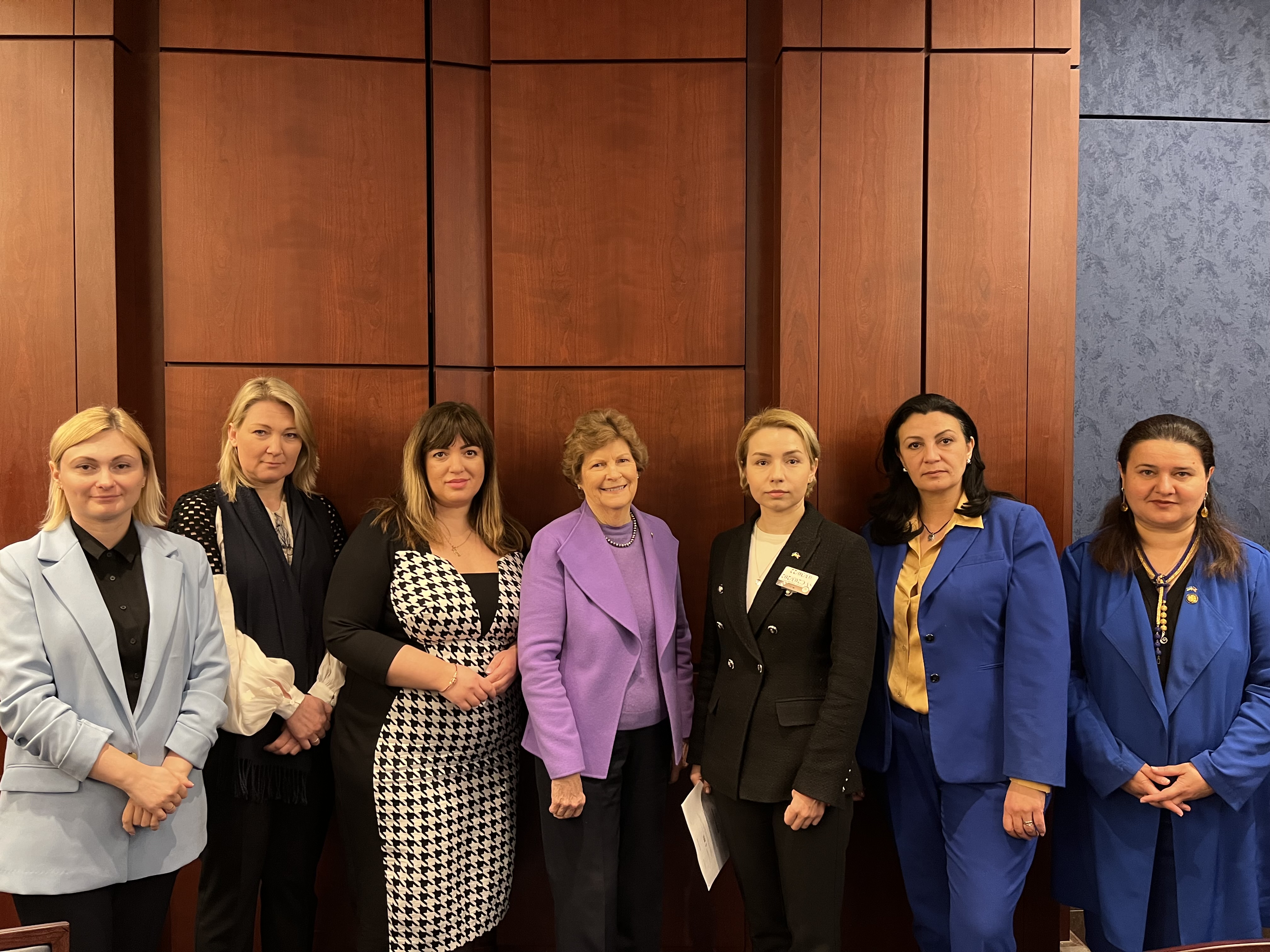 Shaheen participates in meeting with Ukrainian Ambassador to the United States, Oksana Markarova, and members of the Ukrainian Parliament.
(Washington, DC) – U.S. Senator Jeanne Shaheen (D-NH), Chair of the Senate Foreign Relations Subcommittee on Europe and Regional Security Cooperation and a member of the Senate Ukraine Caucus, joined Ukraine Caucus Co-Chairs Dick Durbin (D-IL) and Rob Portman (R-OH) with fellow caucus members for a meeting today with Ukrainian Ambassador to the United States, Oksana Markarova, and members of the Ukrainian Rada and Polish parliament to discuss the ongoing military crisis in Ukraine following Putin's invasion.
"Ambassador Markarova and her fellow administration officials have shown remarkable resolve amid this military crisis, demonstrating an unwavering determination to advocate to leaders around the world on behalf of the Ukrainian people. Our meeting today addressed a number of critical concerns, particularly the urgency of the need for additional military assistance and broader application of sanctions. I believe it is especially important to point out that the Ukrainian leaders we met with today were all women, which reflects the fundamental role women in Ukraine are playing during this crisis – from negotiating with world leaders to holding the frontline and caring for refugees, Ukrainian women are demonstrating the unique and powerful responsibilities of women during crises," said Shaheen, author of the Women, Peace and Security Act. "As the United States continues to work in close coordination with our allies in support of Ukraine and to counter and punish Putin, I'll use my role as Chair of the Senate Foreign Relations Subcommittee that oversees Europe to ensure the urgent asks made to the Caucus today are raised to the highest level."
Today's meeting follows one Shaheen co-hosted earlier this month with Senate Majority Whip Dubin with key European Ambassadors. Shaheen has led action in the U.S. Senate in support of Ukraine in response to Vladimir Putin's belligerence against Ukraine, which also threatens the stability and security of Eastern Europe and NATO allies. Last month, Shaheen led a successful bipartisan effort with Portman to pass a resolution that conveys a renewed and overwhelmingly bipartisan message from the U.S. Senate in fierce support of Ukraine. In January, Shaheen and Portman led a bipartisan delegation to Ukraine, where they met with President Zelenskyy and members of his administration.
Senator Shaheen has long led efforts in the Senate to hold Russia accountable for its malign activity against the U.S. and its allies. Because of her role as a negotiator on Russia sanctions legislation known as "CAATSA" and her successful efforts to ban Kaspersky Lab software from operating on U.S. systems, Shaheen was sanctioned by the Kremlin in 2017. Before the Shaheen-Portman congressional delegation visit to Ukraine in January, Shaheen led a bipartisan group of lawmakers to Eastern Europe, including Ukraine, last June.
###