Shaheen Visits Simulation Lab at Catholic Medical Center Following Her Successful Effort to Secure Federal Investments for Project in Government Funding Bill
**Earlier: Shaheen Participates in Ribbon Cutting Ceremony for New CAES Lab in Exeter**
April 12, 2022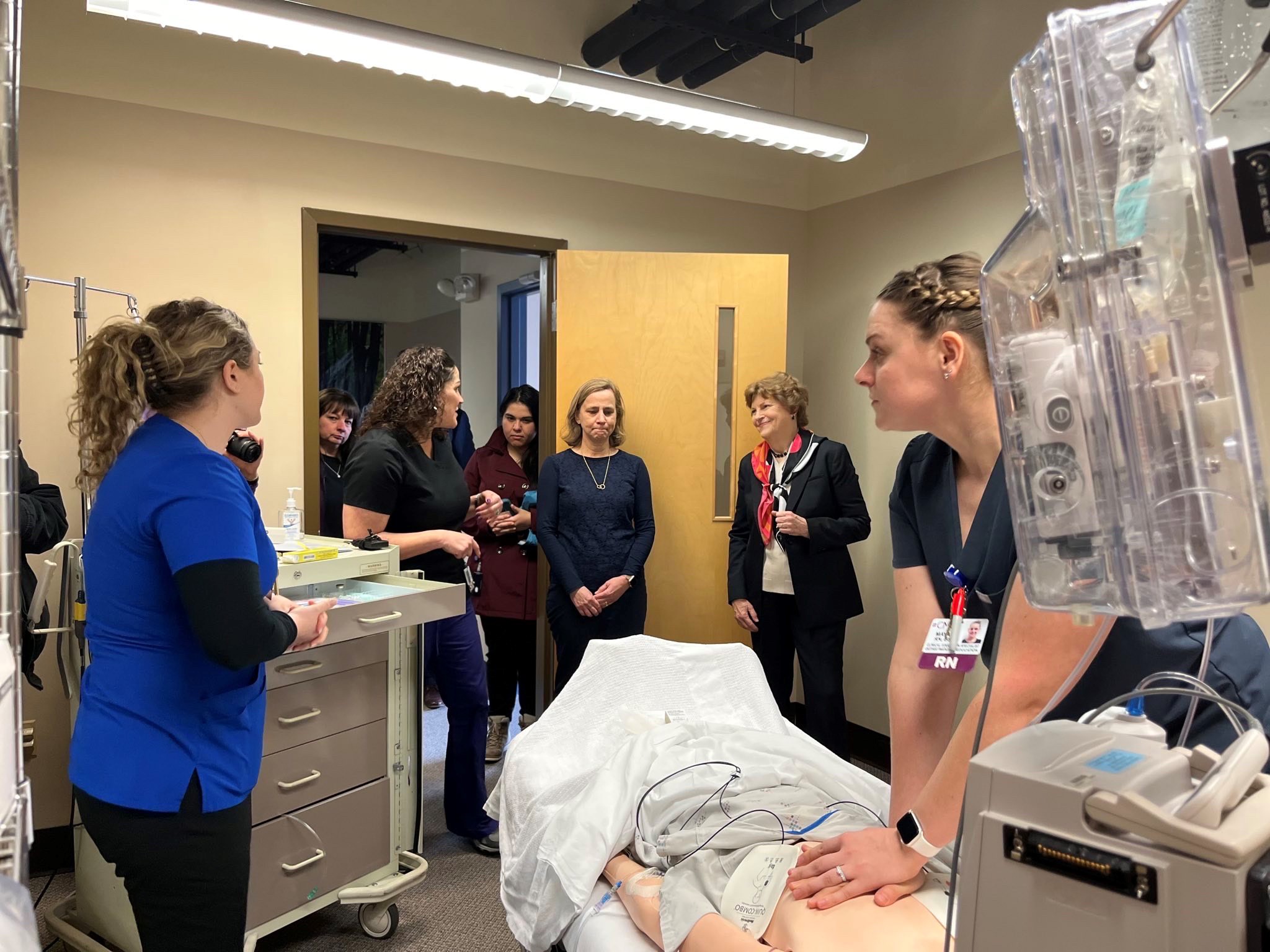 Shaheen watches St. A's students give demonstration in CMC simulation lab
Shaheen tours new CAES 3-D additive manufacturing lab
(Manchester, NH) – Today, U.S. Senator Jeanne Shaheen (D-NH) visited Catholic Medical Center (CMC) in Manchester to congratulate CMC and Saint Anselm College on their Congressionally Directed Spending (CDS) award. As a senior member of the Senate Appropriations Committee, Shaheen fought to secure $2 million for CMC and Saint Anselm College to renovate a 13,000 sq. ft. state-of-the-art health care simulation lab in the fiscal year (FY) 2022 funding legislation that was signed into law in March. Shaheen successfully secured an additional $500,000 to improve emergency services in the CMC Emergency Department Behavioral Health Annex. During her visit, Shaheen toured the current simulation lab and learned more about CMC's plans to upgrade the facility with their new funds.
"I enjoyed meeting with CMC and St. A's today to discuss the innovative health care training that will soon be available to Granite Staters through this $2 million award I secured. This expanded training space will equip CMC Staff and nursing students in New Hampshire with the best education possible through hands-on learning and cutting-edge equipment," said Shaheen. "As a senior member of the Senate committee that drafted the funding package, I prioritized securing funding to expand access to quality health care and invest in the next generation of health care leaders."
Earlier this morning, Shaheen participated in the ribbon cutting ceremony for Cobham Advanced Electronic Solutions (CAES) Inc. in Exeter to celebrate the opening of their new 3-D lab. This lab will support CAES' partnership with SWISSto12, a provider of 3-D printed technology for radio frequency applications in the aerospace and defense industry by helping to address next-generation design challenges for aerospace and defense platforms.
"I was thrilled to join the ribbon cutting ceremony at CAES to celebrate their new 3-D additive manufacturing lab. This cutting-edge technology will help this Exeter facility produce advanced electronics for space systems – which not only strengthen our national security but also help track weather systems to improve agriculture and commerce," said Shaheen. "I'm excited to see CAES grow its capacity so it can continue to be a hub of innovation and science. I'll continue supporting CAES' work to develop and manufacture advanced systems for New Hampshire and the nation."
As a senior appropriator, Shaheen secured funding for a range of local projects in New Hampshire through the CDS process, which allows the federal government to invest in policies and programs that provide assistance to Granite State communities and help move our nation forward. In total, Shaheen helped secure $69,047,000 for projects across New Hampshire through congressionally directed spending allocations.
###
---
---
Next Article
Previous Article