Small Business & Entrepreneurship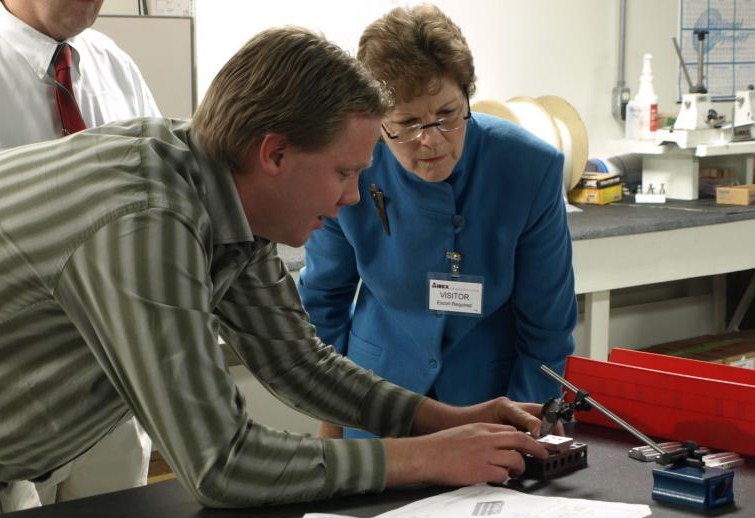 Senator Shaheen knows that small businesses are the engine of New Hampshire's economy – and that's why she chose to serve on the Senate Small Business Committee. Over 96 percent of New Hampshire's employers are small businesses. To put this in perspective, New Hampshire has enough small business employees to fill up Fenway Park almost six times.
As the former owner and manager of a small retail business, Senator Shaheen knows what it's like to worry about meeting payroll and inventory costs to keep a business going. And as the former Governor of New Hampshire, Senator Shaheen understands it is small business, not the government, that creates jobs and drives new ideas and innovation. But she also believes government has a vital role to play in addressing the challenges small businesses face, especially in difficult economic times.
As a member of the Small Business Committee, Senator Shaheen helped craft the Small Business Jobs Act, which has helped hundreds of small businesses in New Hampshire by providing them with tax breaks, access to credit, and exporting opportunities. She also created the Small Business Advisory Council in 2009. She meets with them to hear about and help with the challenges and opportunities confronting New Hampshire small businesses.
Ensuring Access to Credit
The credit crunch has hit small businesses especially hard. Too many Main Street business owners today are relying on credit cards with exorbitant interest rates to obtain the working capital they need to keep their businesses going. That's why Senator Shaheen has made it a priority to help get credit flowing to the small businesses that are the lifeblood of New Hampshire's economy.
The Small Business Jobs Act has encouraged more lending to small businesses. By waiving loan fees and increasing the guarantees on Small Business Administration (SBA) loans, the Small Business Jobs Act had an immediate impact. In the first three months after its enactment, it increased the number of loans to small businesses through the SBA by over 350% in New Hampshire. Combined with the Recovery Act, the Small Business Jobs Act opened up credit for hundreds of small businesses in New Hampshire when the credit crunch was at its worst.
In addition, Senator Shaheen worked to enhance the SBA's Express loan program. The Small Business Jobs Act contained a provision authored by Senator Shaheen that raised loan limits for this program, which cuts red tape and puts working capital into the hands of businesses quickly.
The Small Business Jobs Act also set up two funds designed to get credit into the hands of small businesses – one to help community banks lend to Main Street businesses, and another to support state lending programs that are tailored to the business needs of each state.
Senator Shaheen will continue to monitor the availability of credit to small businesses and ensure that they have the support they need to grow. She also created the Small Business Advisory Council in 2009. She meets with them to hear about and help with the challenges and opportunities confronting New Hampshire small businesses.
Helping Small Businesses Export
Exports represent a tremendous opportunity for economic growth in the United States. Even in our difficult economic climate, exports have been a bright spot for businesses in New Hampshire. In 2010, New Hampshire led all states in the nation in export growth by increasing its overseas sales by 45 percent. That's more than double the national average.
Senator Shaheen has been a leader in helping New Hampshire businesses sell their products and services to international markets and find new markets. She was the first New Hampshire Governor to lead a trade delegation outside of North America.
America makes the best, most innovative products, yet while 95 percent of the world's consumers are overseas, only one percent of small businesses export.
In the Senate, Senator Shaheen has continued her efforts to help small businesses export. She sponsored legislation to strengthen Small Business Administration programs that help small businesses access foreign markets. This legislation, which provides more access to export loans and counseling programs, was included in the Small Business Jobs Act that became law in 2010. As the chairman of the Senate Foreign Relations Subcommittee on European Affairs, she convened a hearing to explore how to enhance trade with Europe. She is also the cosponsor of legislation to reauthorize and strengthen the Overseas Private Investment Corporation, which helps U.S. businesses invest overseas and promotes economic development in new and emerging markets.
Senator Shaheen has also held several events to help New Hampshire businesses interested in selling their products overseas. She hosted the Granite State Export Forum in Nashua to help connect small- and medium-sized businesses from across the state with resources to help them sell their products overseas, increase their bottom line, and create jobs in New Hampshire. She has brought in the heads of export assistance agencies, like the Export-Import Bank, to meet with small businesses looking to export.
Senator Shaheen will continue focusing on ways to help small businesses take advantage of export opportunities to grow their businesses, hire new workers, and help the American economy stay competitive in the 21st century.
Small Business Innovation – Helping Entrepreneurs Grow
Senator Shaheen believes America's future lies in maintaining the cutting edge in science and technology, creating new jobs in new industries, and giving older industries the tools they need to compete in the global marketplace.
New Hampshire's high-tech economy relies on small, innovative companies that create the products that will keep America competitive. That's why Senator Shaheen has authored legislation to extend the Small Business Innovation Research program, or SBIR.
SBIR, first created by New Hampshire Senator Warren Rudman in 1982, directs existing federal research and development dollars to small companies and helps them develop products for commercial markets. SBIR has been critical to the success of many small, innovative companies in New Hampshire that provide 21st-century jobs in the state. Senator Shaheen has fought for a long-term reauthorization of the program to give businesses and federal agencies certainty in planning their research and development.
Senator Shaheen also supports expanding the federal research and development tax credit and making it permanent.
Finally, Senator Shaheen believes that to stay competitive in the 21st century, we need a 21st century workforce. She sponsored legislation to encourage more students to study science, technology, engineering, and math (STEM) because she believes that giving more students access to this kind of education is essential to ensuring that the U.S. workforce remains competitive in a global economy. To read more, click here.
Tax Relief for Small Businesses
To help businesses struggling in the recession, Senator Shaheen worked to cut taxes on small businesses. She voted to allow the hardest hit small businesses to obtain substantial tax refunds by expanding a tax provision that lets businesses use losses in the current year to reduce their tax bills in previous, profitable years. Senator Shaheen also voted to increase the tax deduction small businesses can take for investing in the equipment and machinery they need to grow.
Healthcare Costs
New Hampshire small businesses are struggling with the high cost of healthcare. Senator Shaheen supported comprehensive healthcare reform that expands access to coverage and helps control the cost of healthcare. In addition, she supported the Small Business Jobs Act, which allowed the self-employed to claim a tax deduction for healthcare benefits. For more information on Senator Shaheen's position on healthcare, click here.