SHAHEEN MEETS WITH GENERAL WILLIAM FRASER, REITERATES PEASE AIR NATIONAL GUARD BASE SUPPORT
Shaheen cites base's ideal capabilities for assignment of next generation KC-46A Tanker
March 06, 2013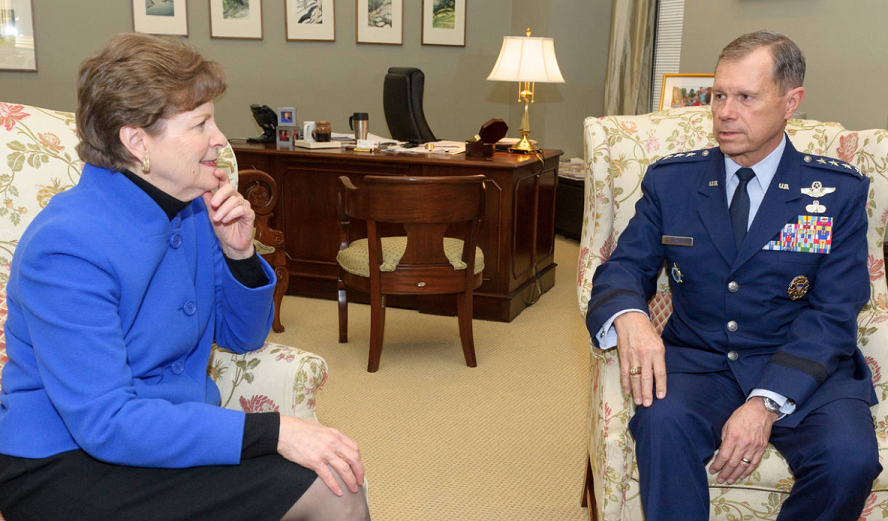 (Washington, D.C.) - U.S. Senator Jeanne Shaheen (D-NH) met today with General Will Fraser, Commander of the U.S. Transportation Command (USTRANSCOM), to discuss important issues facing the New Hampshire National Guard and to continue her advocacy of Pease Air National Guard Base as an optimal location for the KC-46A tanker.
As the single manager for global, land and sea transportation for the Department of Defense, USTRANSCOM is one of the military's primary operators of refueling aircraft. Shaheen spoke with Fraser at length about the Pease's unique capabilities that would make the transition of the new generation tankers efficient and cost-effective.
"General Fraser has a long history of service to our country and he certainly understands the considerations that must be taken into account when placing critical military resources," said Shaheen, a member of the Senate Armed Services Committee. "I appreciated the opportunity to highlight the great work carried out by our service members in New Hampshire and discuss the qualifications that make Pease an ideal site for the KC-46A."
Shaheen, a long-time advocate of the Pease Air National Guard base, sent a letter with the New Hampshire delegation today to the Director of the Air National Guard reiterating her support for the base. The letter cited Pease's strategic location, low operating costs, high air utilization rates and its mature active duty association.
The Air Force is conducting detailed, on-the-ground site surveys of each candidate base to assess each location's operational and training requirements, potential impacts to existing missions, housing, infrastructure, and manpower. In the spring of 2013, the Air Force will select preferred and reasonable alternative locations and begin an Environmental Impact Analysis Process. The selected Air National Guard base will receive aircraft beginning in fiscal year 2018.
Press Contact
Press Office, (202) 224-5553
---
---
Next Article
Previous Article