Shaheen Meets with U.S. Ambassador to Ukraine Nominee Bridget Brink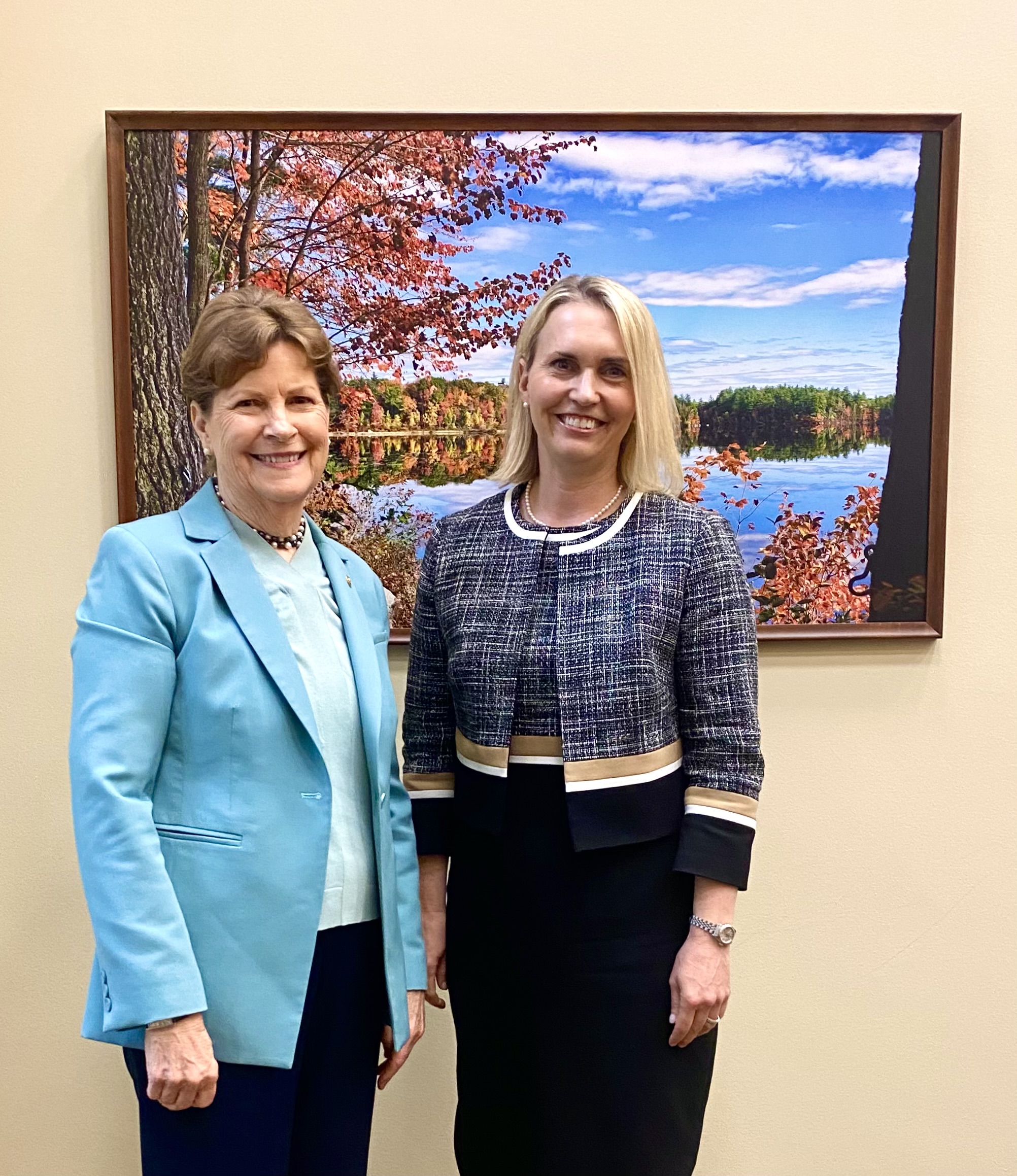 Shaheen meets with U.S. ambassador to Ukraine nominee, Bridget Brink, in Washington, DC.
(Washington, DC) – U.S. Senator Jeanne Shaheen (D-NH), Chair of the Senate Foreign Relations Subcommittee on Europe and Regional Security Cooperation and a senior member of the Senate Armed Services Committee, issued the following statement after meeting with Bridget Brink, who was nominated by President Biden last month to serve as U.S. Ambassador to Ukraine.
"As Putin intensifies his attacks against the Ukrainian people, every effort must be made to provide assistance to our partners - militarily, economically and diplomatically. Ambassador Bridget Brink is extremely qualified to fill this urgently needed role to ensure that U.S. support from the State Department is coordinated as part of a whole-of-government response to Russia's campaign of violence," said Shaheen. "With her extensive experience from serving in the Bureau of European and Eurasian Affairs at the State Department, to her current position as U.S. Ambassador to the Slovak Republic as part of more than twenty years in the Foreign Service, Bridget is the right person for the job. In too many cases, the Senate has been encumbered with political grandstanding that's held up qualified nominees from being confirmed in pivotal locations around the world – we cannot let that happen now. I urge the Senate Foreign Relations Committee and Senate leadership to move swiftly on Ambassador Brink's nomination, and for lawmakers to act in good faith without political games that delay the confirmation process. There is no time to waste."
Shaheen, a member of the Senate Ukraine Caucus, leads action in the U.S. Senate in support of Ukraine in response to Vladimir Putin's belligerence, which also threatens the stability and security of Eastern Europe and NATO allies. Shaheen recently led a bipartisan congressional delegation with Senators Chris Murphy (D-CT) and Thom Tillis (R-NC) to the Balkans to convey continued U.S. support for its allies amid Russian aggression against Ukraine and the implications for European security in the region. In addition, legislation co-led by Shaheen to speed up military assistance to Ukraine and Eastern European nations cleared Congress and will soon be signed into law. In April, Shaheen and members of the Senate Ukraine Caucus met with Ukrainian Ambassador to the United States, Oksana Markarova, and members of the Ukrainian Parliament. In February, Shaheen led a successful bipartisan effort with Portman to pass a resolution that conveys a renewed and overwhelmingly bipartisan message from the U.S. Senate in fierce support of Ukraine. Earlier this year, Shaheen and Portman led a bipartisan delegation to Ukraine, where they met with President Zelenskyy and members of his administration. As a senior member of the Senate Appropriations Committee, she supported the inclusion of $13.6 billion in security assistance that was part of government funding legislation signed into law by President Biden. Before the Shaheen-Portman congressional delegation visit to Ukraine in January, Shaheen led a bipartisan group of lawmakers to Eastern Europe, including Ukraine, last June.
###